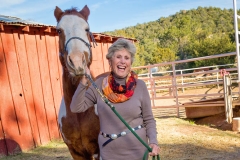 This is Nancy. Nancy was looking for a photographer that would take pictures of her family reunion on Thanksgiving 2016. Thirty one years ago, Ed and Nancy moved from Chicago to a beautiful ranch in Bent, NM where they still take care of many horses. It is a beautiful place out there. She found me by asking people at her church if they knew a good photographer. They didn't but did a research and this church family recommended me, Karina Schuh Photography, to Nancy.
Nancy called. Her voice was full of energy and she explained that her two daughters and her son will be here with all her ten grandkids + partners to celebrate Nancy's birthday at the same time. She expected twenty two family members to stay at the ranch. I offered Nancy to meet that I can get an impression where she wants to get the photos taken. So, I went to Bent and visited this beautiful place with many trees, grass, a little stream that runs through their property, and a beautiful little house. Ed and Nancy have shown me their property and explained everything to me and also what she wants her photos to look like. I made suggestions and explained my point of view. We wanted to include their property and the surrounding mountains and were hoping to have some fall colors for Thanksgiving. When I left, I already felt very good. I liked Ed and Nancy from the very beginning and she told me later that she felt the same. We stayed in contact and I came back another time before the big family reunion when we talked about what to serve to the family during the whole week and which restaurant might be good for deliveries etc.
When I came home that day, I talked about that to my husband, Michael. Without big thinking, he said he would cook a German dinner for these twenty two people. Nancy got very excited about that and discussed that with her family. They got excited, too. My husband marinated the meat for a 'German Sauerbraten' that he wanted to prepare for the birthday party.
On Thanksgiving, I brought Michael with me to be my photo assistant as I knew the property is very large and with so many people I just wanted to be on the safe side concerning lighting and equipment etc. The big family was getting ready, everywhere, in this little house were people. We took the truck to bring my equipment to the first location for pictures at the ranch. All people were in a good mood, shared stories and laughters. I started doing my job and posed the family for their photos. Randy, Nancy's son was very helpful and pulled out a picture list where he created groups and told them who would be in the photo and who would not be in the photo. That helped me tremendously. Michael took care of my lighting, and the horses tried to get to my equipment on the back of the truck ;-). It was wonderful, the weather was gorgeous, the people were happy, everybody had fun.
After finishing the sessions, we explained them the dinner for the next day. They decided to celebrate Nancy's 80th birthday on Friday, November 25th. They invited us to have dinner with them. Arriving at home, I uploaded the photos from the day. They turned out amazing. The lighting was perfect and the location was stunning. I became excited to show them the next day.
On Friday, Michael prepared the 'Sauerbraten', red cabbage, and together we formed many dumplings. We loaded up our car and drove over to Bent where the family just came together after a big hike in the mountains. I connected my laptop to their big TV screen, and together, we went through my first selection of the photos. It was wonderful to see the reactions on their faces. That is a moment that I never want to miss anymore, when you get together after a photo session and your customers see the photos for the very first time. As there were so many different groups, it made it hard to decide for the best photos. We decided to do that later. Before dinner, all family members and Michael and me, hold hands in a big circle. Nancy's youngest daughter started to thank for the come together and thanked her brother and sister for being there for each other, and that all the family members can be proud of themselves and what they have achieved in their lives. I was very impressed and also got tears in my eyes. We have never seen/heard something like that in our family. This family is just very close together. And we are so thankful that we were invited to Nancy's special day. We had a wonderful dinner and everybody enjoyed the German food and the German beer.
Thank you Nancy for inviting us to your family. We will never forget this very special photo session with you and your family. We really felt like a part of your family.
Check out some of the photos of this session!
[justified_image_grid ng_gallery=8]
https://karinaschuhphotography.com/wp-content/uploads/2023/09/KS-Logo-3.png
0
0
Karina
https://karinaschuhphotography.com/wp-content/uploads/2023/09/KS-Logo-3.png
Karina
2016-12-07 18:35:09
2022-11-08 15:23:55
An 80th Birthday and Celebrating Thanksgiving | A Family Reunion in Bent, NM | captured by Karina Schuh Photography