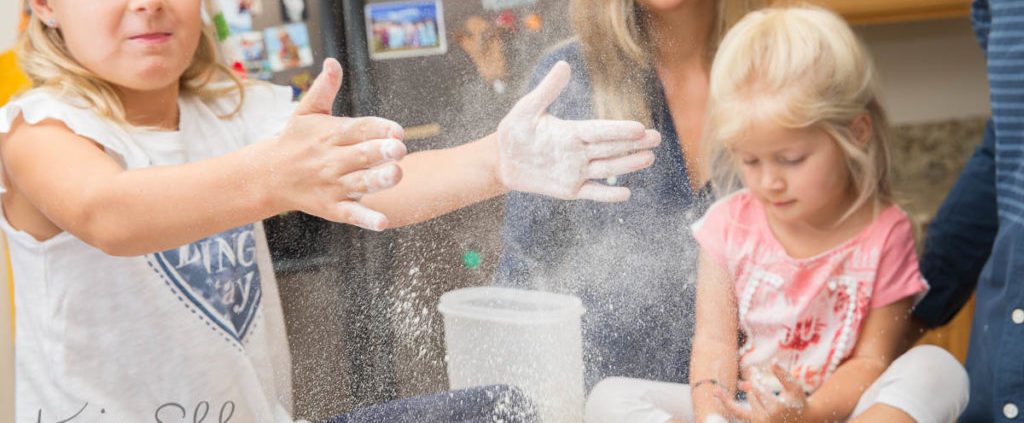 Documentary Photography Sessions are a different kind of Family-Sessions. They usually take place at your home. At home, your children feel safe and you can catch the smiles and laughters of them much easier.  The photos are not posed, I just catch the individual moments. Documentary photography works for families with little kids until the age of maybe 8 years. You can play with your kids their favorite games, cook together, or go outdoors where they can jump, ride their bikes, and run through the sprinklers,  etc. Bedtime stories are also a great way to document family-time, play in the bathtub, read them a story, and cuddle each other.
In my latest family-documentary-session, I was looking for something unusual to create their Christmas cards. As it is very common to make Christmas cookies, we decided to document the Christmas baking.
So, I arrived at Melanie's and Jens' house. The dough was ready to roll. We placed Lara and Lena on the island in their kitchen that they can easily reach the dough. Lara, the oder daughter jumped right into it and had to taste the cookie dough, then started to make their first cookies. While doing that, she discovered how to play while making cookies. The sprinkles were thrown through the air onto the dough and she just had fun. Lena first had to get used to this situation but after awhile she started to do what her sister was doing and the fun began. At the beginning, they 'only' threw the sprinkles through the air and tried a few of them to eat, but then they discovered the flour. The cookies looked great and they had to get more done. They threw the flour through the air and had so much fun. Melanie and Jens first had fun watching the mess but then quickly realized they would have to clean the whole kitchen. Look at these two girls then you know they had fun making Christmas cookies. They got the flour all over and when we had to finish both needed a shower very bad.
I really had fun watching this family during that time even my camera got flower all over ;-). The cookies are delicious. The only problem they have now, these children will never ever make Christmas cookies without creating a mess in the kitchen.
Are you looking for an unusual family-photo-session? Go with a documentary family-session. Together, we are creating these special moments that you will never forget.
Contact me & book your documentary photo-session now and get your Christmas cards for free! 
(575) 415-5593
karina.schuh@gmx.com
[justified_image_grid ng_gallery=20]
https://karinaschuhphotography.com/wp-content/uploads/2016/11/Christmas-Bakery-12-1024x683.jpg
683
1024
Karina
https://karinaschuhphotography.com/wp-content/uploads/2023/09/KS-Logo-3.png
Karina
2016-11-05 12:35:32
2022-11-08 15:23:56
A very special Christmas-Family-Session | Baking with the kids | A documentary Family-Session | Family-Photography in Alamogordo, New Mexico